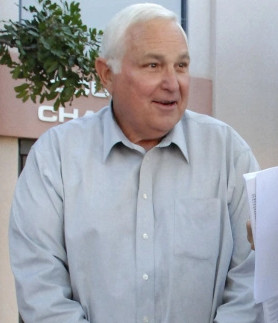 Mayor David Shawver
Stanton Mayor David Shawver was elected in 2018. As a Stanton Council Member he worked for many years to increase local Stanton city taxes and fees on the residents and businesses. And as Mayor he has worked to increase many local Stanton city taxes and fees in just a short period of time.
Tax and fee increases have gotten out of control for some time and in too many cases they are increased without a vote of the people.
Mayor David Shawver
has quite a record of raising taxes and fees especially in Stanton:
2017 - First of all, in Stanton we have to remember we have lots of fees on things like a cable TV franchise fee, SoCal Edison franchise fee, lighting and landscaping fee, protective service fee... And who knows where all these fees came from since it's difficult to keep track of them all and too many times Stanton Residents were not allowed to vote on these fees.

2016 - Mayor David Shawver worked to stop the rescinding of the Stanton Sales Tax with the use of the "Talk On The Block" community meeting.

2016 - Mayor David Shawver raised the fees on the local Stanton sewer tax multiple times over the past few years without a vote of the people. Notice this is in addition to the county sewer fee he has been increasing as well.

2015 - Mayor David Shawver increased the Stanton trash fee without the vote of the people. Again Stanton is near the top of rates charged out of all cities in Orange County and about 25% higher than Tustin which uses the same trash hauler. How can this be justified!

2014 - Mayor David Shawver put the Stanton Sales Tax Increase on the November 2014 Stanton ballot which passed making it the highest sales tax in Orange County.

2013 - Mayor David Shawver voted for 5 years of increases on the county sewer fee while serving as Stanton's representative on the County Sanitation District Board. In 2008 the fee was $199 and now in 2017 it will be $339. Again, this was done without a vote of the people.

2012 - Mayor David Shawver promoted the Measure G bond which increased property tax bills. This was the Savanna school bond but just 17 months earlier Savanna sold Mary Perez School to Stanton for $12.5 million so was an increase in the property tax bill really necessary?

2012 - Major fundraising and campaigning in favor of the 50% utility tax increase leads back to Jennifer Shawver. It looks like tax raising runs in the family.